The first olfactory Automobili Lamborghini branding project signed by Culti Milano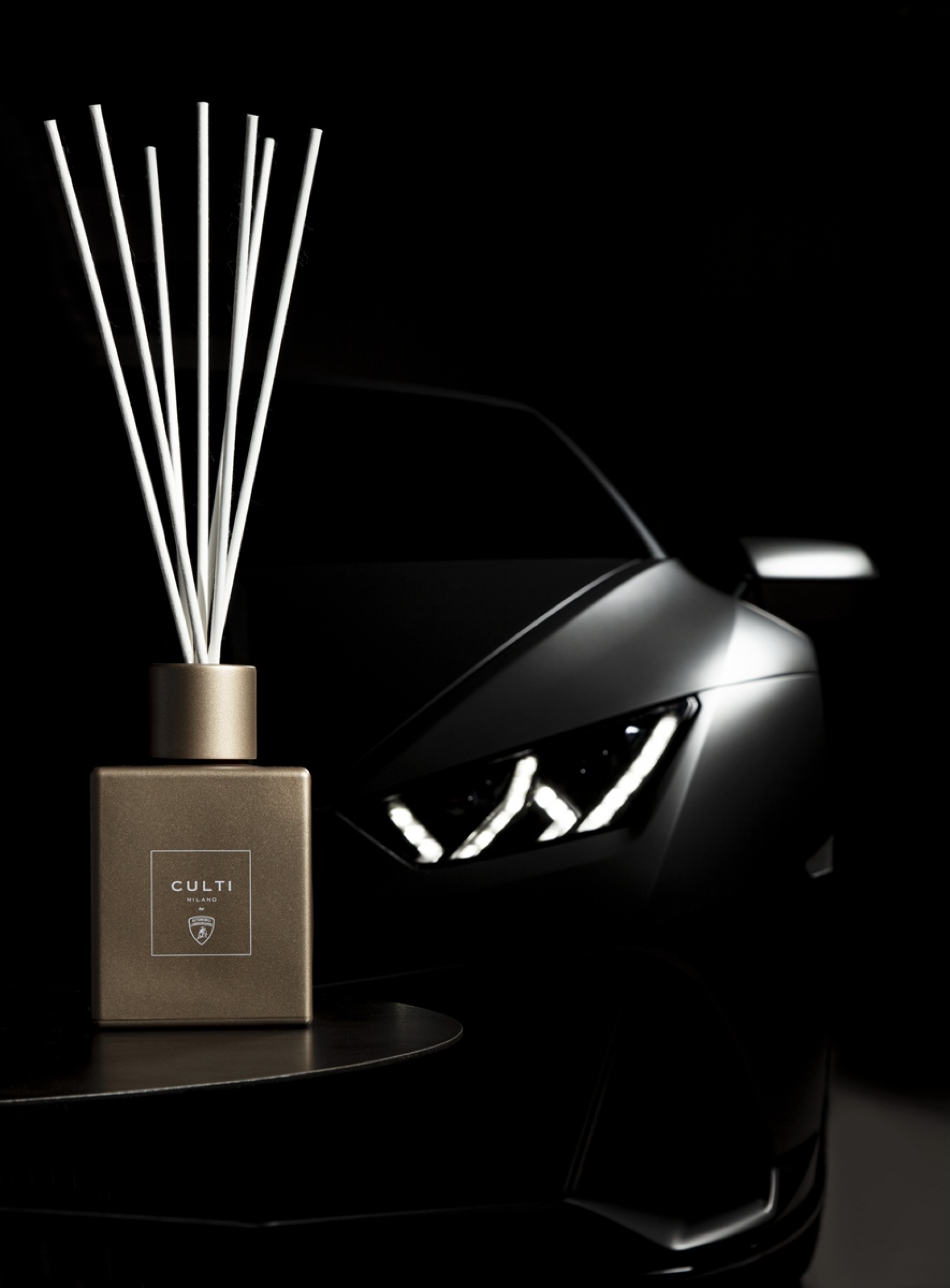 Sant'Agata Bolognese / Hong Kong, 10 June 2021 – From the encounter between the brand pioneer of environmental culture and the excellence in super sports car production comes a fragrance that tells a story of exclusivity, contemporaneity and energy.

Spring 2021 marks the beginning of the collaboration between Automobili Lamborghini and Culti Milano: a perfect combination of the values of two brands, an expression of exclusivity all Made in Italy.

An innovative project, like the spirit of Automobili Lamborghini, which saw Culti Milano as the perfect partner for creating an exclusive fragrance, starting from the base, heart and head notes. The olfactory branding project is expressed with an initial proposal to be followed by others, which are highly representative of the traits that distinguish the super sports cars.

The fragrance is a cohesive expression of the talents of the two brands in which design, innovation, and comfort coexist in an exclusive narrative that develops with the typical traits of an essence. The citrusy opening is accompanied by a lively heart and an enveloping base that expresses a refined, intense and vigorous spirit, which swings with a fresh sprint that brings out the notes of grapefruit, bitter orange, bergamot, vetiver and finally converges in an enveloping base of cedar wood and sandalwood.

The design of the packaging has a bold character and clean contours. For the Decor diffuser, available in 500ml, 1000ml and 2700ml sizes, the Bronzo Zenas color was chosen from the Lamborghini color range, with a matte finish and screen-printed logos.

The wicks in white technical fabric fiber attest to the attention to aesthetics with a linear and high-performance delivery of the fragrance.

The product will be available on the digital channels of Culti and Automobili Lamborghini, at the Lamborghini flagship store in Sant'Agata Bolognese and the CULTI HOUSE shops in Milan, Turin, Forte dei Marmi, Rome, Naples and Bari.

About CULTI MILANO: It was born of an intuition from the eclectic mind of Alessandro Agrati, namely his perception, which was incredibly ahead of its time, that spaces and objects might have their own scent too; that it was possible to surround oneself with olfactory quality, in addition to beautiful things in pleasant rooms. It was 1988 when Agrati embarked upon his personal research into the link between the design world and the world of the senses, something that would revolutionize the very way people experience spaces and objects.
G/F., Hang Tak Building, 1 Electric Street, Wanchai, Hong Kong
Copyright 2021. Kingsway Group Holdings Ltd. All rights reserved.