Automobili Lamborghini and Master & Dynamic present the third collection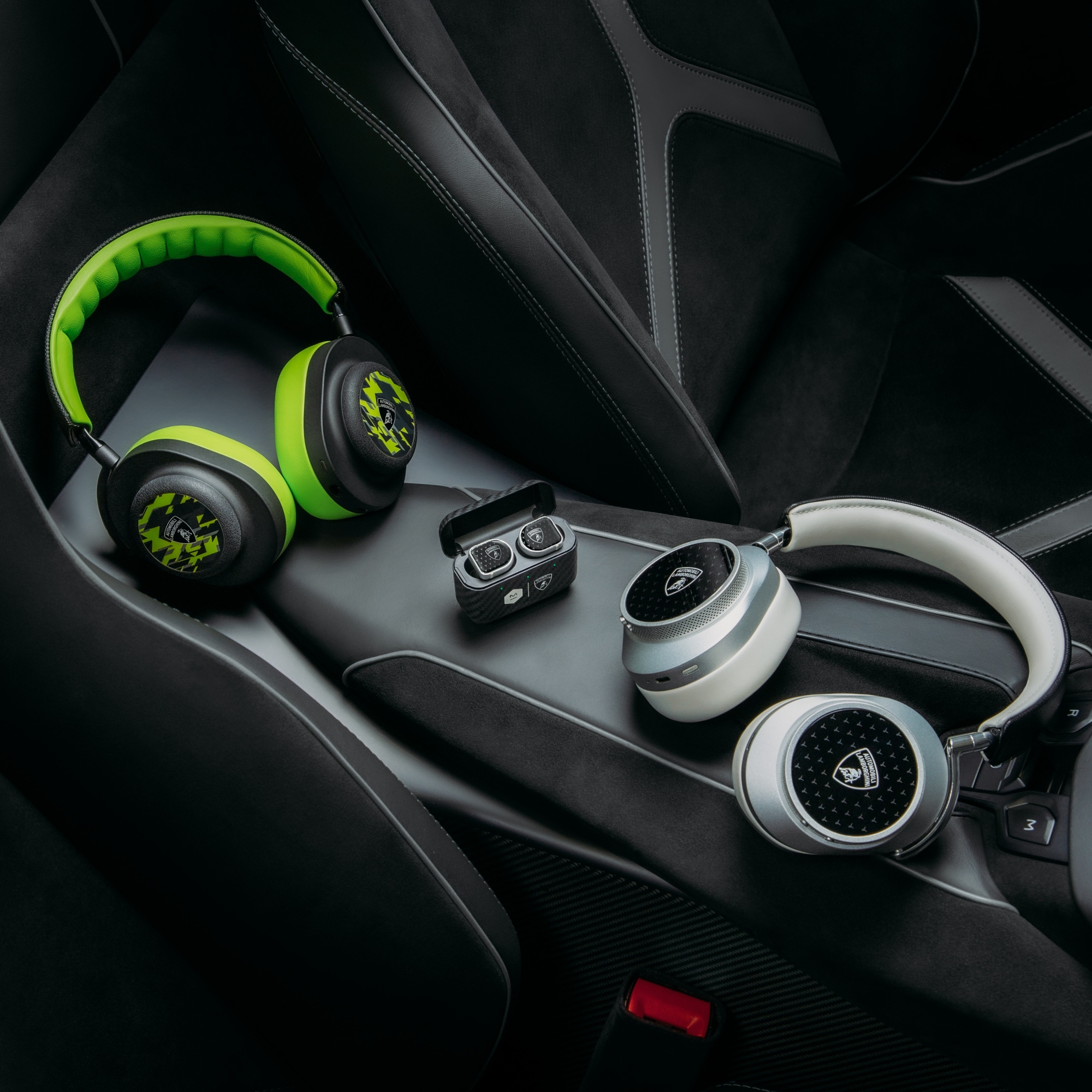 Introducing the new co-branded collection of headphones and earphones

Sant'Agata Bolognese/Hong Kong, 25 April 2023 – Automobili Lamborghini and Master & Dynamic, the New York brand leader in the world of premium audio devices, create a third co-branded collection of headphones and earphones.

The collection includes MW75 Active Noise-Cancelling Wireless Headphones, MG20 Wireless Gaming Headphones, MW08 Sport True Wireless Earphones, for a range of high-tech audio systems with Automobili Lamborghini design elements.

Jonathan Levine, Founder and CEO of Master & Dynamic announces: "Our new collection with Lamborghini celebrates and highlights the brand's bold DNA of super sports cars. The black and green MG20 Gaming headset reminds me of the first Lamborghini Huracán I've seen and is perfect for a high-performance headphone. The elegant black, white and silver MW08 wireless earphones and MW75 ANC headphones pay homage to the elegance and fun of driving Lamborghini super sports cars".

The third installment of the collaboration features the custom design of the MW75 Active Noise-Cancelling Wireless Headphones and MW08 Sport True Wireless Earphones that reflect the bold language of Automobili Lamborghini and the iconic "Y" on the glass plates. The MG20 Wireless Gaming headphones, on the other hand, have a graphic pattern in shades of Shock Green, the distinctive color of super sports cars and are made of leather and sapphire crystal front glass.

The MW75 wireless headphones offer Adaptive Active Noise-Cancelling, which automatically adjusts the cancellation of ambient noise, for an unprecedented listening experience. Made of aluminum, leather and tempered glass, the MW75 headphones are perfect for daily and extended use.

The MG20, the first true luxury gaming headset, has a detachable microphone and an internal alternative system for clear communication both in game and on the move. Constructed from magnesium and featuring a low-latency adapter, the MG20 Wireless Gaming Headset is designed to raise the bar for any gaming setup.

The MW08 Sport True wireless headphones offer uninterrupted sound performance and perfect stainlessness, they also feature a Kevlar® charging case, which offers up to 42 hours of battery life.

The Master & Dynamic collection for Automobili Lamborghini is available on the Master & Dynamic online shop, on lamborghinistore.com and at Sant'Agata Bolognese Flagship store.

About Master & Dynamic

With an unrelenting attention to design and detail, Master & Dynamic has a deep passion for building beautifully crafted and technically sophisticated sound tools to help focus, inspire and transport your mind. Since its launch in 2014, New York City-based premium audio brand Master & Dynamic has released a variety of award-winning audio products ranging from wired and wireless headphones to a wireless speaker.

Designed to be modern yet timeless, Master & Dynamic products utilize only the finest materials and are engineered to last, creating the perfect balance of aesthetics, strength, comfort and exceptional sound. Master & Dynamic believes mastery is a never-ending exploration requiring a dynamic approach and has collaborated with leading luxury brands such as Louis Vuitton as well as world-renowned architect Sir David Adjaye. View the entire collection at www.masterdynamic.com and join the conversation at @masterdynamic.
G/F., Hang Tak Building, 1 Electric Street, Wanchai, Hong Kong
Copyright 2021. Kingsway Group Holdings Ltd. All rights reserved.